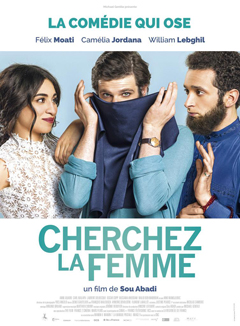 CREST THEATRE
Saturday, June 23 - 9pm
Sunday, June 24 - 12pm
In French with English subtitles.
AWARDS
- Audience Award, Biografilm Festival (Italy), 2018
REVIEWS
The bet was rather cheeky and the subject sensitive, but this vaudevillesque comedy manages to make us laugh while pinning fundamentalists of all kinds. Amélie Cordonnier - Femme Actuelle
A tragicomic story that uses the two most powerful weapons: humor and sincerity. - Ouest France
Of course, some will blame Sou Abadi for joking on a subject such as radicalization, but the film also shows, and without laughing this time, the origin of the rage of Mahmoud: the abandonment by the Republic of young people, the mosque imposing itself as their last hope of sociability. Guillemette Odicino - Télérama
It takes a lot of nerve and intelligence to blast the clichés on Islamism with crazy gags and mischievous misadventures. Barbara Théate - Le Journal du Dimanche
Writer-director Sou Abadi ('SOS Tehran') turns a controversial social issue into a broad French comedy. Jordan Mintzer - The Holywood Reporter
Director: Sou Abadi

Screenplay: Sou Abadi


88 min

International Sales: PLAYTIME

COMEDY

Not Rated (all audiences)

WINNER OF THE 2018 SFFF AUDIENCE AWARD!

Cast:
Félix Moati: Armand
William Lebghil: Mahmoud
Camélia Jordana: Leila
Anne Alvaro: Mitra
Predrag 'Miki' Manojlovic: Darius
Carl Malapa: Sinna
Laurent Delbecque: Nicolas
Oscar Copp: Fabrice-Farid
Oussama Kheddam: Mustafa
Walid Ben Mabrouk: Ahmed
Mostafa Habibi: Ali



Armand (Félix Moati, France's new heartthrob, also starring in Gaspard at the Wedding, playing this year at the SFFF), the bookish son of Iranian political refugees, and Leila (pop star Camélia Jordana, former Nouvelle Star - French American Idol - contestant, and winner of the 2018 César for Most Promising Actress for her role in Le Brio), an Arab girl from the projects, are in love. Both students at the prestigious Sciences Politiques school, they are about to leave for New York together to do an internship at the United Nations. But their plans seem to unravel when Leila's big brother, Mahmoud (William Lebghil), returns from an extended trip to Yemen as a full-blown Islamist with beard, prayer beads, and a desire to quell his sister's profane Western ways by keeping her prisoner in their apartment. How can Armand free Leila? To be able to see her and organize their secret departure, Armand must undergo a makeover: he dons a burqa and becomes Shéhérazade, Leila's female Islamic Studies tutor. The ruse works so well that Mahmoud soon falls in love with the devout and erudite Shéhérazade...
Some Like It Veiled takes the cross-dressing concept of the Billy Wilder classic Some Like It Hot and brings it to the age of Islamic fundamentalism. The result: an extremely funny, laughing-out-loud, politically-incorrect French farce.
Writer/director Sou Abadi was born in Iran and moved to France with her family, at the age of 15, following the Iranian Revolution. Some Like It Veiled is her first narrative feature.
Shown with ARTEM SILENDI by Frank Ychou.

CREST THEATRE
Saturday, June 23 - 9pm
Sunday, June 24 - 12pm