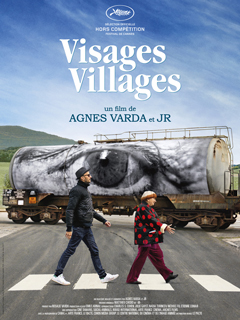 PLAYING AT THE CREST THEATRE.
In French with English subtitles.
BANDE ANNONCE (TRAILER)
IN FRENCH
AWARDS
- Golden Eye for Best Documentary, Cannes International Film Festival 2017
- People's Choice (Documentary), Toronto International Film Festival 2017
REVIEWS
If "Faces Places" is Agnès Varda's last film, it's a profoundly moving and absolutely essential farewell. Agnès Varda may not see as well as she used to, but her creative vision has never been clearer. David Ehrlich - IndieWire
[An] utterly charming road movie documentary. Allan Hunter - Screen International
Agnès Varda, in the glory of her golden years, has become a humanist magician. Owen Gleiberman - Variety
This rich cross-generational exchange speaks to the persistence of French cinematic culture -- Varda's relationship with the pioneering filmmaker Jean-Luc Godard is a recurring theme -- while the doc itself is a delight, subtle, touching and entertaining. Kate Taylor - Globe and Mail
Director: Agnès Varda &
JR

Screenplay: Agnès Varda &
JR


89 min

US Distribution: Cohen Media Group

DOCUMENTARY /ROAD MOVIE

Not Rated (all audiences)

Cast:
Jean-Luc Godard: Himself (archive footage)
JR: Himself
Laurent Levesque: Letter 'O'
Agnès Varda: Herself

PURCHASE 4th MINI FEST
TICKETS & PASSES HERE!
89-year-old Agnes Varda, one of the leading figures of the French New Wave, and acclaimed 33-year-old French photographer and muralist JR teamed up to co-direct the enchanting documentary/road movie Faces Places.
We don't really know how they met - the film is fancifully unclear about it - but we know that Varda
and JR are kindred spirits who share a lifelong passion for images and how they are created, displayed and shared, and we can't wait to follow them.
Together, in JR's custom photo truck, they journey though rural France (it is part of their initial deal, as Varda doesn't care anymore to visit big cities), to the north and south, meeting locals, learning their stories and producing epic-size photo portraits of them that are prominently displayed on houses, barns, storefronts and trains revealing the humanity of their subjects, and themselves. Faces Places documents these heart- warming encounters as well as the unlikely, tender friendship Varda and JR form along the way. With an original soundtrack by Mathieu Chedid, aka M.
In more recent news, you may have seen the giant photography of a Mexican child looking over the US- Mexico border fence, recently installed by JR. Find more about JR's latest art installation in this New York Times article.
Shown with The Fisherman and the Businessman by Simon François

CREST THEATRE
Saturday, October 21 - 11am
ONE SCREENING ONLY!