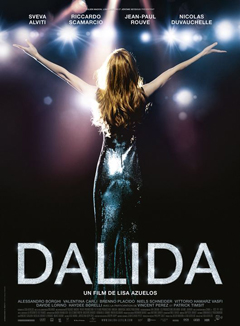 PLAYING AT THE CREST THEATRE.
In French & Italian with English subtitles.
BANDE ANNONCE (TRAILER)
IN FRENCH
REVIEWS
"Dalida": Walking a tightrope between life, love and death. Lisa Azuelos brings us an effective biopic on the impassioned, flamboyant and tragic fate of the singer. Fabien Lemercier - Cineuropa
"Dalida" is one of the best biopics you'll ever see. Courtney Howard - Fresh Fiction
Director: Lisa Azuelos

Screenplay: Lisa Azuelos, based on the biography by Catherine Rihoit & Orlando (Dalida's brother)


124 min

US Distribution: Under the Milky Way

MUSICAL BIOPIC

Not Rated (adult situations, brief nudity)

Cast:
Sveva Alviti: Dalida
Riccardo Scamarcio: Orlando
Jean-Paul Rouve: Lucien Morisse
Nicolas Duvauchelle: Richard Chanfray
Alessandro Borghi: Luigi Tenco
Valentina Carli: Rosy
Brenno Placido: Lucio
Niels Schneider: Jean Sobieski
Michaël Cohen: Arnaud Desjardins
Vincent Perez: Eddie Barclay
Patrick Timsit: Bruno Coquatrix

PURCHASE 4th MINI FEST
TICKETS & PASSES HERE!
You may have never heard of her, but Dalida reigned as one of France's most celebrated and successful singers from the late 1950s through the 1980s, with a repertoire of hits as vast and varied as her (very public) private life was tumultuous and tragic. Dalida was an extraordinarily strong, independent, and modern artist whose professional life was a long and near-constant string of successes. In contrast, she was also a vulnerable, passionate, and insecure woman whose love life was an almost endless streak of failures and tragedies, and whose untimely death immortalized her iconic image as a cursed diva. Today, thirty years after her death in 1987, Dalida still inspires enduring love and this glittery biopic from Lisa Azuelos (LOL, French and American versions) was a huge success in France when it was released last spring.
Dalida, the film, takes us on a not always chronological journey from Dalida's difficult childhood as an Italian in Egypt during WWII (she was born Yolanda Gigliotti), all the way to her rise to stardom, from her early incarnation as a "yé-yé" girl to her final one as a sequined disco diva. And we won't tell you more to give you the option to discover her story on the big screen, with no spoilers...
Italian model turned first-time actress Sveva Alviti is phenomenal as Dalida and leads an all-star cast with uncanny aplomb. The film cleverly uses its lavish soundtrack, with a choice of songs matching episodes from the singer's life, and the set and costume designs are magnificent. In a desire to remain true to the real Dalida, Azuelos (herself the daughter of another famous French actress-singer, Marie Laforêt) worked closely with Dalida's flamboyant brother and manager, Orlando who with novelist Catherine Rihoit, wrote a biography of his beloved sister in 2009.
Shown with Taste of Love by Emma Benesta

CREST THEATRE
Saturday, October 21 - 1:05pm
ONE SCREENING ONLY!