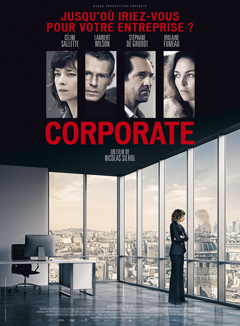 PLAYING AT THE CREST THEATRE.
In French with English subtitles.
BANDE ANNONCE (TRAILER)
IN FRENCH
REVIEWS
Céline Sallette smartly anchors this compelling, cool-headed office-politics thriller, a solid debut for writer-director Nicolas Silhol. Guy Lodge - Variety
An intense office drama (...) Sallette — who already showcased her talent in Bertrand Bonello's "House of Tolerance" and on the TV series "The Returned" — proves herself to be an engaging and often feverish presence, playing a woman wavering between personal morality and economic reality: your job or your conscience. Sadly, Corporate shows that in today's work environment, it's extremely hard to keep both. Jordan Mintzer - The Hollywood Reporter
The HR department is the centre of this French boardroom thriller which gives Céline Sallette a showcase role. (...) The film hits every beat that one would expect, but it does so with grounded authenticity. Screen Daily
Director: Nicolas Silhol

Screenplay: Nicolas Fleureau & Nicolas Silhol


95 min

International Sales: Indie Sales

SOCIAL THRILLER

Not Rated (adult situations)

Cast:
Céline Sallette: Emilie Tesson-Hansen
Lambert Wilson: Stéphane Froncart
Stéphane De Groodt: Vincent Philippon
Violaine Fumeau: Marie Borrel
Alice de Lencquesaing: Sophie
Camille Japy: the coworker
Hyam Zaytoun: Patricia Suarez
Arnaud Bedouët: Jean-Louis Maury

PURCHASE 4th MINI FEST
TICKETS & PASSES HERE!
Emilie (Céline Sallette, House of Tolerance – SFFF 2012) is a young workaholic manager in the Human Resources department of a Paris-based multinational food company. Ambitious and dedicated to her job, she has no moral issues with implementing the ruthless methods of management her boss Stéphane Froncart (Lambert Wilson, The Odyssey – SFFF 2017, A Man and his Cow – SFFF 2016) requires. In order to get unwanted staff out of the way without violating France's strict labor laws, employees are slowly cornered into resignation instead of being fired.
One day, instead of resigning, a financial manager chooses to jump off the top floor of the firm's headquarters, resulting in a formal investigation into company practices by work inspector Marie Borrel (Violaine Fumeau ). To save the company from getting into too much trouble, Stéphane discreetly directs Marie's investigation toward Emilie. Meanwhile, Emilie slowly opens her eyes to her responsibility in the tragic death of her subordinate and starts questioning her professional choices.
Corporate, the debut feature of writer/director Nicolas Silhol, is a smart and fascinating office thriller inspired by the series of suicides at France Telecom that shocked France in the early 2010s.
Shown with Two Dollars by Emmanuel Tenenbaum

CREST THEATRE
Saturday, October 21 - 3:45pm
ONE SCREENING ONLY!