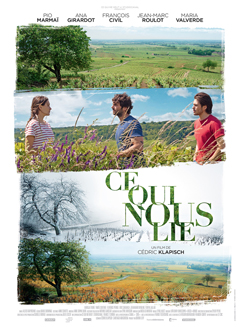 PLAYING AT THE CREST THEATRE.
In French with English subtitles.
BANDE ANNONCE (TRAILER)
IN FRENCH
REVIEWS
The performances are engaging and the film is very likeable, especially as we witness the landscapes through the changing seasons of sun-dappled summer and snow-clad winter. Allan Hunter - Daily Express (UK)
A palatable affair. Wendy Ide - The Guardian
There are two things that the French not only love but also take very seriously: their films and their vino. (...) So the arrival of "Back to Burgundy" (Ce qui nous lie), the latest film from writer-director Cedric Klapisch (L'Auberge espagnole, Paris), is a welcome one. Boyd van Hoeij - The Hollywood Reporter
Director: Cédric Klapisch

Screenplay: Cédric Klapisch & Santiago Amigorena


113 min

US Distribution: Music Box Films

FEEL GOOD FAMILY DRAMEDY

Not Rated (adult language and brief nudity)

Cast:
Pio Marmaï: Jean
Ana Girardot: Juliette
François Civil: Jérémie
Jean-Marc Roulot: Marcel
María Valverde: Alicia
Yamée Couture: Océane
Jean-Marie Winling: Anselme, Océane's dad
Florence Pernel: Chantal, Océane's dad
Éric Caravaca: The father

PURCHASE 4th MINI FEST
TICKETS & PASSES HERE!
Cédric Klapisch, one of our favorite filmmakers – and yours too if we believe the stellar attendance of all of his films presented at the SFFF (most recently Chinese Puzzle in 2014) – returns with Back to Burgundy (in French Ce qui nous lie, or "what binds us"), a quintessentially French film about wine, family, and roots!
Jean (Pio Marmaï, In the Courtyard – SFFF 2015, Aliyah and Delicacy – SFFF 2013), left his family and his native Burgundy ten years ago to tour the world. He never came back and didn't keep in touch. Learning about his father's imminent death, he returns, surprising his sister, Juliette (Ana Girardot), who still lives at home, and brother, Jérémie (François Civil, Made in France – SFFF 2016), who has married into one of the region's most prominent winemaking families. Both still works alongside their dad in the family vineyard and Juliette has unofficially taken over the reins after their father was hospitalized just before the harvest. When their father dies, the three siblings inherit the property but are hit with an inheritance tax bill of over $500,000. As the seasons go by, Jean shows no intention of going back to his complicated life in Australia, and they work together to keep the winery going, reinvent their relationship, and find their own personal path.
Back to Burgundy is set in the gorgeous landscapes of Burgundy over the course of four seasons, beginning and ending with the harvest. This family dramedy is full of nostalgia and humor. It is also a wonderful chronicle on traditional winemaking.
Shown with Mars IV by by Guillaume Rieu

CREST THEATRE
Saturday, October 21 - 6pm
ONE SCREENING ONLY!