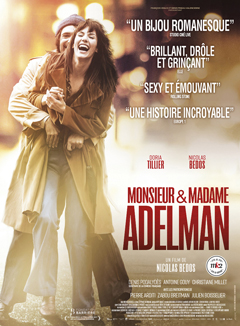 PLAYING AT THE CREST THEATRE.
In French with English subtitles.
BANDE ANNONCE (TRAILER)
IN FRENCH
AWARDS
- Audience Award, COLCOA Film Festival 2017
- Audience Award, Hamptons International Film Festival 2017
REVIEWS
The film, animated by an inextinguishable energy, is also courageously irreverent. Danièle Heymann - Marianne
This brilliantly written film combines a reflection on love with black humor, and shows an admirable ambition. Caroline Vié - 20 Minutes
At the same time a romantic comedy, a dark comedy and a literary thriller with corpses in the drawer, the film is above all a beautiful romance, complex, funny, and at times terribly moving. Lola Sciamma - Voici
Touching - Femme Actuelle
A first film ambitious and insolent, scathing and cruel, full of references to Woody Allen, Martin Scorsese, John Cassavetes. As irritating as it is seductive. Long live romance! Philippe Lagouche - La Voix du Nord
Director: Nicolas Bedos

Screenplay: Doria Tillier & Nicolas Bedos


120 min

International Sales: Le Pacte

ECCENTRIC COMEDY/ROMANCE

Not Rated (adult situations)

Screening followed by late night treats -coffee & pastries- provided by Coffee Works

Cast:
Doria Tillier: Sarah Adelman
Nicolas Bedos: Victor de Richemont aka Adelman
Denis Podalydès: the psychoanalyst
Antoine Gouy: the journalist
Christiane Millet: Sylvie de Richemont
Pierre Arditi: Claude de Richemont
Zabou Breitman: the school principal
Julien Boisselier: Antoine de Richemont

PURCHASE 4th MINI FEST
TICKETS & PASSES HERE!
This feature debut from French comedic bad boy Nicolas Bedos (son of iconic stand-up comedian Guy Bedos) is an erudite and witty celebration of love "for better or for worse.".
When famous author Victor Adelman (Bedos) dies, a journalist contacts his wife of forty years, Sarah (Doria Tillier, former TV "weather girl" who co-wrote the script with Bedos, her real life partner), hoping to get a scoop on the great writer's life. Her account begins with Sarah first convincing Victor, and then his parents (Pierre Arditi and Christiane Millet) that she is the right woman for him. As Victor the bright and promising lover turns into Victor the egocentric, anguished and unfaithful husband, Sarah doubles down on her devotion: she is his rock when times are tough, his muse when inspiration falters. And as life takes its toll on their relationship, she stays by his side, no matter what. But is she telling the full story?
Walking a razor's edge between bitingly cynical and ironically romantic, Mr. & Mrs. Adelman chronicles half a century of passions, ambitions, victories, secrets, betrayals, and French history! It is a whimsical tribute to the madness implied in the idea of sharing a whole life with someone. Bedos is effortlessly charming as the unbearable Victor, while Doria Tillier is exceptional in her film debut as the strong but enigmatic force behind the public figure. Let's also salute Denis Podalydès (The Sweet Escape - SFFF 2016, Adieu Berthe - SFFF 2013, The Conquest - Special SFFF Screening 2012) in a hilarious cameo as Victor's psychoanalyst.
Shown with No Drowning by Mélanie Laleu

CREST THEATRE
Saturday, October 21 - 8:30pm
ONE SCREENING ONLY!
Screening followed by late night treats -coffee & pastries- provided by Coffee Works