THREE SOIREES CINEMA at ARTSTREET
February 8, 15 and 22, 2017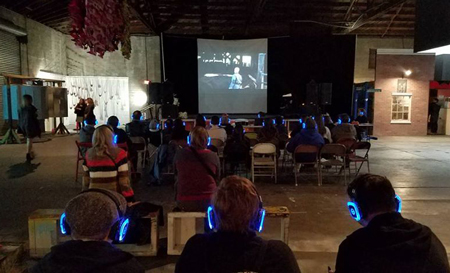 EXPERIENCE TOTAL SOUND IMMERSION...

You will be provided with "Silent Screening headphones" that will allow you to experience total sound immersion into the films. It is a fantastic and unique experience!
Seating inside ArtStreet is very limited, you can bring your own folding chair for better comfort. You can choose to stay for the whole program, or just watch a film or two. But make sure to come and enjoy the show!
PROGRAM 1
CORPS ET ESPACE
(BODY & SPACE)
Wednesday, February 8 - 7pm
SEULES LES MOUETTES RESTERONT (ONLY THE SEAGULLS WILL STAY ALIVE) by Anthony C. Cajan - 2013 - 3 minutes.
Portraying a possible future with images of the past, to account for the present.
UNBIND by Mathilde Neau - 2016 - 5 minutes.
Featuring dancers Hilton Denis and Natalie Debono.
The man is imposing and muscular. His presence fills the room. The sound of his body, his breath
fills the space. Yet, his anxiety is palpable, as his weakness is about to be revealed.
LES CARTES POSTALES (POSTCARDS) by Camille Rosset - 2016, prod: Le G.R.E.C. - 15 minutes.
Two teenage cousins write postcards to each other over the summer holiday.
LES IMAGES PARFAITES (PERFECT IMAGES) by Béatrice Plumet - 2016, Méroé Films - 44 minutes.
Director Plumet tirelessly films her completely still models in a strange face to face with the camera.
CORPS (CORPSES) by Benjamin d'Aoust - 2016, Ultime Razzia Productions - 16 minutes.
The walls of a prison, from which the voices of the unseen prisoners escape, day and night.
200 000 FANTOMES (200 000 GHOSTS) by Jean-Gabriel Périot - 2007, Envie de tempete Productions - 10 minutes.
Hiroshima 1914-2006. Music by Current 93.
PROGRAM 2
FLANEURS
Wednesday, February 15 - 7pm
SOLID by Seb Kraemer - 2016 - 2 minutes 30.
A man tags the same image of a 3D cube in various locations.
SUR LES PAVES, RUE DENOYEZ (IN THE MIDDLE OF THE STREET) by Philippine Graffard & Zélia Devooght - 2016 - 10 minutes.
A trip between an end and a beginning. It is time to invent the future in the famous and cosmopolitan rue Denoyez (in Belleville, Paris) now that the buildings set for demolition have been vacated by the artists who occupied them for years.
KUMO-DANS LES NUAGES (KUMO-IN THE CLOUDS) by Nicolas Depetris & Chikako Kiyohara - 2016 - 5 minutes.
A man travels between dreams and reality.
DIMANCHES (SUNDAYS) by Valéry Rosier - 2011, Ultime Razzia Productions - 15 minutes.
What do people do on Sundays?
SHUNPO by Steven Briand - 2012, prod: Partizan Films - 4 minutes.
Escape everyday life with one lightning step: the Shunpo.
LE SKATE MODERNE (MODERN SKATEBOARDING) by Antoine Besse – 2014, Big Productions - 7 minutes.
In the remotest corners of Dordogne (in southwestern France), a band of skaters/farmers use their boards on muddy country roads.
LA VOIX DES CHIMERES (THE VOICE OF THE CHIMERAS) by Jonathan Boissinot - 2015 - 10 minutes.
A murder takes place near the home of a young man who suspects that a strange man he saw in the neighborhood is responsible.
LA TORTUE (THE TURTLE) by Jean-Christophe Malbaut - 2016, Achab productions - 13 minutes.
Bored in her boarding school, a young girl dreams of escape. She meets a fabulous sea turtle that takes her away, across the sea.
DEUX HOMMES DANS UNE AUTO (TWO MEN IN A CAR) by Eric Barzman - 2015 - 12 minutes.
Tired of their parisian life, Harry and Jérôme leave on an improvised road trip, away from the modern world and its technologies.
PROGRAM 3
LES DAMES DU BOIS DE BOULOGNE
by Robert Bresson
Wednesday, February 22 - 7pm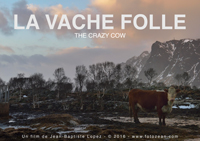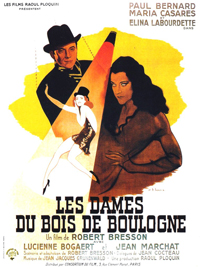 LA VACHE FOLLE (THE CRAZY COW) by Jean-Baptiste Lopez - 2016 - 4'37"
A cow drives its neighbor crazy.
LES DAMES DU BOIS DE BOULOGNE by Robert Bresson - 1945 - 84' - Black & white.
This unique love story, based on a novelette by Denis Diderot and with dialogue written by Jean Cocteau, follows the maneuverings of a society lady as she connives to initiate a scandalous affair between her aristocratic ex-lover and a prostitute. With his second feature film, director Robert Bresson was already forging his singularly brilliant filmmaking technique as he created a moving study of the power of revenge and the strength of true love.
Starring: Paul Bernard (Jean), María Casares (Hélène), Elina Labourdette (Agnès), Lucienne Bogaert (Madame D.), Jean Marchat (Jacques).
US Distribution: Janus Film
MORE ABOUT
THE SFFF & ARTSTREET
The Sacramento French Film Festival is proud to be part of the ambitious multidisciplinary art project, ArtStreet presented by the art collective M5 Arts (who also brought the Art Hotel to Sacramento in February 2016). ArtStreet is a free event that will be held during three weeks (February 3 – 25, 2017) in a old abandoned warehouse off of Broadway in downtown Sacramento. More than 100 artists are involved, and so are we!
In December 2016, we launched a Call for Experimental Short Films and received more than 60 submissions. We hope you enjoy the ones we selected for you.
We created two programs in tune with the themes embodied by ArtStreet (program 1: CORPS ET ESPACE / Program 2: FLANEURS).
For those of you who are not fans of Experimental Films, our third program will showcase Robert Bresson's beloved 1945 classic, LES DAMES DU BOIS DE BOULOGNE.
ArtStreet runs from February 3-25, 2017.
More about ArtStreet can be found here.