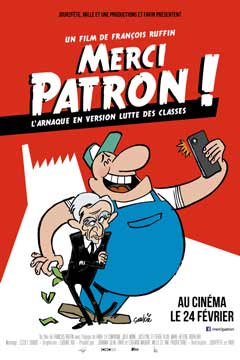 In French with English subtitles.
REVIEWS
Excellent, important and essential – not to be missed. Geoffrey Crété - Cineman
(...) while Merci Patron! will in no way solve the nation's many economic woes, or the problems of the luxury fashion business in general, it deserves credit for having the courage to try and outscheme a first-class schemer — and for getting away with it. Jordan Mintzer - Hollywood reporter

François Ruffin's warm, cheeky documentary portrays its working man's story as a comical battle of wits. David Pountain - Filmdoo
Director: François Ruffin


90 min

International Sales: Jour 2 Fête

SATIRICAL DOCUMENTARY

Not Rated - All Audience

Cast:
François Ruffin: Himself
Bernard Arnault: Himself
Jocelyne Klur: Herself
Serge Klur: Himself

U.S. PREMIERE!
Thanks Boss! is a funny and surprising satirical documentary with a Robin Hood twist.
For Jocelyne and Serge Klur, things are desperate: their factory which used to make suits for Kenzo (part of the luxury giant LVMH Moët Hennessy Louis Vuitton) in Poix-du nord (North of France), has been relocated to Poland. The couple is now out of work, burdened with debts, and at risk of losing their house.
This is when François Ruffin, founder of the Fakir newspaper, knocks on their door. He is confident:
he will save them! Supported by a Belgian tax inspector, a communist nun, the worker's union delegate, and former clerks from the Samaritaine department store in Paris (now closed), he will bring the Klurs case to the attention of LVMH's Board of Directors and will move the heart and mind of its CEO, Bernard Arnault. Suspense, emotion, laugh. Will our crew manage to dupe the world's leading luxury goods group and the richest man in France?
Activist and journalist François Ruffin credits American director Michael Moore and his 1989 documentary, Roger & Me, for his inspiration. Made on a tiny budget (about $200K, or the price of about 60 Louis Vuitton iconic bags) the film uses humor, in a very Michael Moore-style, to not only point out some of Arnault's rather questionable business practices over the years, but to literally blackmail him onscreen for ruining the lives of the Klurs, among others. The result is both surprising and at times extremely funny, especially when Ruffin has to school the easygoing couple on how to toughen up and stick it to the man.
Thanks Boss! became an instant surprise hit in France, with spontaneous clapping and standing ovations happening in theaters all over the country. At a time when French workers were taking to the street to oppose the French government's proposal to revamp the labor code, the film became their rallying cry.
Shown with Une Simple Formalité (A Mere Formality) by Loïc Nicoloff
Rendez-Vous with Le Professeur Kevin Elstob after the screening.
Saturday, November 19 - 1:20pm
ONE SCREENING ONLY!