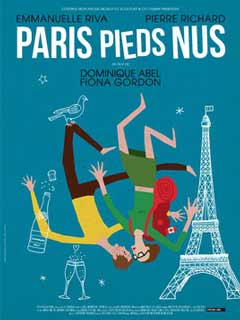 In French with English subtitles.
REVIEWS
We live in an unpredictable and often sad world. In addition to its copious other merits and beautiful execution, Lost in Paris is foremost such a joyful and heartening film to watch - Dan Berger - Oscilloscope Laboratories (US distributor of the film).
Unique physical comedy unlike anything else around now. Always inventive and occasionally hilarious... Tood Mc Carthy - Hollywood Reporter
(A) charming ode to Tati and Chaplin. Eric Kohn - IndieWire
"Lost In Paris" is whimsical in style and rich in comedy, everything you're looking for whilst being transported through France's greatest city. Jazmine Bradley - The Holywood News
Director: Dominique Abel & Fiona Gordon

Screenplay: Dominique Abel & Fiona Gordon


84 min

US distribution: Oscilloscope Laboratories

SLAPSTICK COMEDY

Not Rated - All Audience

Cast:
Fiona Gordon: Fiona
Dominique Abel: Dom
Emmanuelle Riva: Martha
Pierre Richard: Norman
Philippe Martz: Monsieur Martin
Lost in Paris stars the two actor-directors (and real life couple) Fiona Gordon and Dominique Abel as a small-town Canadian librarian and a strangely seductive vagabond. When Fiona's (Gordon) orderly life is disrupted by a letter of distress from her 93-year-old Aunt Martha (Academy Award-nominee Emmanuelle Riva - Amour, Hiroshima Mon Amour) who is living in Paris, Fiona hops on the first plane and arrives only to discover that Martha has disappeared. An avalanche of spectacular disasters leads her to the path of Dom (Abel), an affable, but annoying tramp who just won't leave her alone. Full of amazing tricks and intricately choreographed slapstick, Lost in Paris is a wondrously fun and hectic tale of peculiar people finding love while lost in the City of Lights.
Much of the action takes place along the Seine, including on a Maxim's floating restaurant, with characters falling into the water and, in the climax, climbing up the Eiffel Tower at night! All in the hopes of finding the elusive Martha. In addition to Riva, Pierre Richard (an icon of French comedies from the 1970's) also appears in an amusing and tender cameo.
Though they are barely known in the US, Abel and Gordon (he is Belgian, she is Canadian) have been creating original theatre together for 25 years and making films for 20 years. Filmed in their signature whimsical style, Lost in Paris is a fabulous introduction to their work.
Lost in Paris will be released in France early 2017.
Shown with Wilson by Thomas Scohy
Rendez-Vous with Le Professeur Kevin Elstob after the screening.
Saturday, November 19 - 11:15am
ONE SCREENING ONLY!