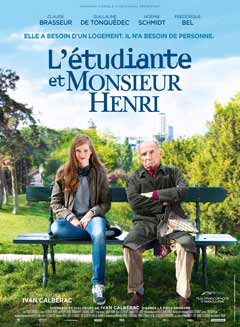 In French with English subtitles.
Bande Annonce
(movie trailer in French)

REVIEWS
It's comfort cinema par excellence, and there's much to be said for that right now. Mike McCahill - MovieMail
"L'Etudiante et Monsieur Henri" has all the solemn moments, comedic instants, and approximative moral maxims the drama-comedy recipe calls for. A comfort film for moments of discomfort, to reanimate one's faith in human relationships. Jasmin Valjas - The Upcoming (UK)
We leave the theatre with teary eyes and a warm heart. Truculent and touching, this film is a success. Emilie Leoni - Télé 2 Semaines
Director: Ivan Calbérac

Screenplay:Ivan Calbérac (based on his play).


98 min

US distribution: Distrib Films

TIMELESS COMEDY

Not Rated - All Audience

Cast:
Claude Brasseur: Henri Voizot
Guillaume de Tonquédec: Paul Voizot
Noémie Schmidt: Constance Piponnier
Frédérique Bel: Valérie
Thomas Solivéres: Mathieu
Valérie Kéruzoré: Constance's mother
Stéphan Wojtowicz: Constance's father
Antoine Glemain: Constance's brother

WEST COAST PREMIERE!

Because of his failing health, Monsieur Henri (Claude Brasseur) can no longer live alone. Particularly distrustful, he nevertheless ends up accepting his son Paul's suggestion to rent out a room in his Parisian apartment. But Henri has a devious plan. Choosing as his lodger the attractive Constance (vivacious newcomer Noémie Schmidt), a student who has just moved to Paris, he offers her free lodging on condition that she does everything in her power to drive apart Paul (Guillaume de Tonquedec) and his wife Valérie (the fabulous Frédérique Bel), whom Henri despises. What ensues is classic farce material with a whirlwind of uproarious misunderstandings and awkward situations. And slowly, the wry cynicism of the beginning makes place for the sweet and uplifting message at the core of the film: follow your dreams and don't waste a minute!
In a uniformly superb cast, honors go to veteran star Claude Brasseur who is a hoot as the old coot; as well as to Guillaume de Tonquedec (the star of a successful long-running television comedy series, as well as of the 2012 comic hit, What's in a Name? for which he won the Cesar for Best Supporting Actor).
Ivan Calbérac has adapted his own stage hit to the screen with triumphant results, in a top example of the Paris "Boulevard Comedy" style. Uproarious fun from start to finish, The Student and Mr. Henri is a proven audience favorite!
Shown with Le Skate Moderne (The Modern Skateboarding) by Antoine Besse
Saturday, November 19 - 3:30pm
ONE SCREENING ONLY!