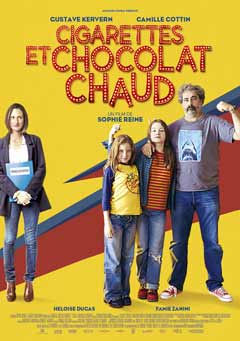 In French with English subtitles.
Bande Annonce en francais
(movie trailer in French)

REVIEWS
No reviews available yet.
Director: Sophie Reine

Screenplay: Sophie Reine & Gladys Marciano


98 min

International Sales: MK2 Films

COMEDY

Not Rated - All Audience (language)

Cast:
Gustave Kervern: Denis
Camille Cottin: Séverine
Héloïse Dugas: Janine
Fanie Zanini: Mercredi
Thomas Guy: Robert

U.S. PREMIERE!
Denis Patar (Gustave Kervern, seen in In the Courtyard - SFFF 2015 & co-director of Le Grand Soir - SFFF 2013, and Louise Michel - SFFF 2011) is a doting but overworked father. Since the death of his wife, he struggles to raise his boisterous daughters Janine (13) and Mercredi (9) on his own while working two jobs and resorting to various, more or less legal, tricks to make ends meet.
Everything goes sour when Denis forgets Mercredi one too many times at the school attracting the attention of social services. Séverine (Camille Cottin), a young and cheerful social worker, is sent to scrutinize the family's daily routines. And soon she cannot avoid sending Denis to a parental training course. Will the eccentric family be able to conform in order to remain together under one roof? Can they conform without losing their originality? Is love not enough?...
Even though this is Sophie Reine's first feature film, she is no stranger to French cinema. A film editor since 1999, she won the César for Best Editing in 2009 for Le Premier jour du reste de ta vie by Rémy Bezancon. Also in 2009, she directed her first short film, Jeanine (ou mes parents n'ont rien d'exceptionnel).
Come and enjoy The Fabulous Patars before French people discover them! This hilarious, quirky and tender comedy will only be released in France on December 14, 2016.
Shown with Nouvelle Venue (New Arrival) by Marion Le Corroller
Saturday, November 19 - 5:45pm
ONE SCREENING ONLY!