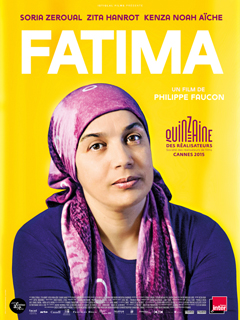 In French & Arabic with English subtitles.
Bande Annonce en français
(movie trailer in French)

AWARDS
- 2016 César for Best Film, Best Screenplay (adaptation), Most Promising Actress (Zita Hanrot)
- 2016 Lumière Award for Best Screenplay
- 2016 Louis Delluc Prize for Best Film
- LACFA Critics Special Mention, 2016 COLCOA French Film Festival
REVIEWS
Warm and insightful. (...) This poignant slice-of-life dramedy proves as modest in length (78 minutes) as it is generous in rueful insight and emotional complexity... Justin Chang - Variety
Fatima offers a gentle, affecting celebration of the fortitude and intelligence of an Algerian cleaning lady struggling to raise her two daughters in contemporary France. Leslie Felperin - Hollywood Reporter
A film that brings clarity and even a sense of exhilaration to the struggle of mother and daughters to succeed on their own terms and for one another. Amy Taubin - Sight & Sound
Director: Philippe Faucon

Screenplay: Philippe Faucon Based on the book by Fatima Elayoubi


79 min

US Distribution: Kino Lorber

DRAMEDY

Not Rated - All Audience

Cast:
Soria Zeroual: Fatima
Zita Hanrot: Nesrine
Kenza Noah Aïche: Souad
Chawki Amari: the father
Dalila Bencherif: Leila
Edith Saulnier: Séverine
Zakaria Ali-Mehidi: Sélim
Isabelle Candelier: Fatima's employer
The immigrant experience is on the minds of quite a few French filmmakers this year, as the SFFF 2016 line-up can attest. For writer/director Philippe Faucon, it has been a career-defining theme. His latest film, Fatima, a prime example of his laid-back docu-style naturalism, was crowned with the 2016 César for Best Film of the year! It also took the awards for Best Adapted Screenplay, and Most Promising Actress for bright newcomer Zita Hanrot.
Fatima (played by non-professional actor Soria Zeroual, who actually worked as a house cleaner when she was cast) is a North African-born divorced mother, tirelessly working cleaning jobs to provide the best possible future for her two daughters, Souad (Kenza Noah Aïche), a rebellious fifteen-year-old, and Nesrine (Hanrot), a hard-working eighteen-year-old who is just starting her first year in medical school.
The film astutely depicts the everyday struggles, tensions and humiliations, but also the moments of joy and fraternity, affecting these three very different immigrant women, each one striving in her own way to find her place in French society. Fatima is a joyful and kind hearted celebration of their fortitude.
The screenplay is based on Fatima Elayoubi's autobiographical collection of poems and prose, Prière à la lune (Prayer to the Moon).
Shown with Pleased to Meet You by Fairouz M'Silti
Friday, June 17 - 7:00pm
ONE SCREENING ONLY
LET'S CELEBRATE OUR 15th ANNIVERSARY IN STYLE!
OPENING NIGHT RECEPTION
(Requires a separate ticket.)
Immediately after the screening of Fatima, at the Capitol Plaza Ballroom - Silver Room 1025 9th Street (a block away from the Crest Theatre)
Open Bar: Wine by Barefoot Wine & Bubbly, French Beer, Solerno Blood Orange Liquor, Pastis (provided by Simply Recipes), Water by Perrier, Café by Coffee Works.
Catering: Brasserie Capitale, Café Rolle, Coffee Works, Dos Coyotes, Hawks Public House, Kru, The Melting Pot, Morants Old Fashioned Sausage Kitchen, Shady Lady Saloon & Veg. Bread by Boudin Bakery.
Soundtrack: DJ Roger Carpio.