Watch the 2015 César
Nominated Shorts
from an art installation!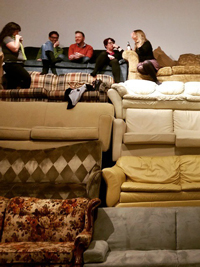 Verge's COUCHBLEACHERS
(by Los Angeles artist Nate Page)
will be your seats for the evening.
PREMIÈRE PARTIE
(1h05min)
La Virée à Paname (A Day Out in Paris) Carine May & Hakim Zouhani (22'50" - Nouvelle Toile)
Going to Paris from the suburb of La Courneuve seems easy enough, but when Mourad, a young man living in the projects, decides to go to Paris to attend a writing workshop instead of watching the soccer game with his friends, it is not that simple.
Award: Prix Unifrance, Festival Tous Courts, Aix en Provence 2013
Où je mets ma pudeur (My Sense of Modesty) Sébastien Bailly (20'30" - La Mer à Boire Productions)
Hafsia, a Muslim student in Art History, finds out that she will need to remove her hijab to pass an important oral exam.

La Petite Casserole d'Anatole (Anatole's Little Saucepan) Éric Montchaud (5'47" - JPL Films) Animation - PREMIERE
Anatole drags a little red saucepan behind him. He doesn't like it, it gets caught everywhere and prevents him from enjoying life.
Award: Honourable Mention, Animation for Children Competition, Ottawa International Animation Festival 2014.
Les Petits Cailloux (The Little Stones) Chloé Mazlo (15' - Les films Sauvages) Animation - PREMIERE
We all carry our own life's baggage. But how long will Chloé have to carry her anxiety around?

ENTRACTE (INTERMISSION)
DEUXIÈME PARTIE
(1h18min)
La Bûche de Noël (A Town Called Panic: the Christmas Log) Vincent Patar & Stéphane Aubier (25' - Autour de Minuit production / Panique !) Animation - PREMIERE
In La Bûche de Noël, a sequel to the hilarious animated feature A Town Called Panic, Indien, Cowboy, Cheval and the others are back. It's Christmas time so Santa joins them... Beware!
Awards: Lacoste Audience Award, My FrenchFilmFestival.com, 2015 - UIP Prize for Best European Short Film / Audience Prize, Vila do Conde International Short Film festival, 2014 - First Audience Award, Bologne Future Film Festival, 2014 - Prix de la Sabam, Anima, Bruxelles, 2014. Watch the trailer here.
La Femme de Rio - Emma Luchini & Nicolas Rey (19' - NoLiTa Cinema) PREMIERE
Two strangers decide to live a lifelong love story in a single night.
Awards: Prix Unifrance du Court Métrage 2014 - Best Actress for Céline Sallette, Festival International du Court Métrage, Bruxelles 2014.
Inupiluk - Sébastien Betbeder (34' - Envie de Tempête Productions) PREMIERE
Thomas, a Parisian slacker, enrolls his best friend, also named Thomas, to help him entertain two friends of his dad who are visiting France from Greenland.
Award: Audience Prize - Clermont Ferrand International Short Film Festival 2014.

Saturday February 21
6pm: Doors open / 7pm: Films start.