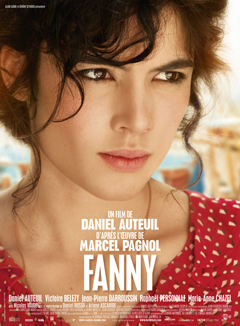 In French with English subtitles.
Bande Annonce - In French.
(movie trailer)
REVIEWS

Superbly performed and polished romantic drama. - Jordan Mintzer HOLLYWOOD REPORTER
Marius is a lovingly crafted piece of cinema that will doubtless arouse a resurgence of interest in Marcel Pagnol's oeuvre around the world. - James Travers FILMSDEFRANCE
Utterly delightful, almost uncanny in its perfect period confidence and brio, this is a reminder once more of why we love French films. - David Noh FILM JOURNAL INTERNATIONAL
Fanny has a stagy sensibility, but Auteuil displays flashes of genuine, old-school craft. - Danny King VILLAGE VOICE
Director: Daniel Auteuil

Screenplay: Daniel Auteuil, based on the plays by Marcel Pagnol

Marius: 93 min Fanny: 102 min
With a 20 min intermission.

US Distribution: Kino Lorber

ROMANCE - COMEDY - DRAMA

Not Rated (Adult situations)

Cast:
Daniel Auteuil: César
Raphaël Personnaz: Marius
Victoire Belezy: Fanny
Jean-Pierre Darroussin: Panisse
Marie-Anne Chazel: Honorine



The SFFF is pleased to introduce you to one of France's most famous cinematic love stories in Daniel Auteuil's new film versions!
Daniel Auteuil, one of France's most renowned actors (Queen Margot - SFFF 2014, My Best Friend - SFFF 2007, The Closet, My Favorite Season, Caché) first entered the world of playwright, novelist and filmmaker Marcel Pagnol as an actor in Claude Berri's 1986 film adaptations of the Pagnol novels Jean de Florette and Manon of the Spring. In 2011, Auteuil dove into Pagnol's work again, this time adapting The Well-Digger's Daughter for his directorial debut.
Marius and Fanny were originally theater plays. They are a successful mix of comedy, drama and romance. Pagnol, who would go on to have his own directing career, produced the first filmed version in 1932 (starring Raimu, Pierre Fresnay, Orane Demazis and Fernand Charpin). In 1936, Pagnol wrote, this time directly for the screen, a third installment for what became his Marseille Trilogy: César, which takes place 20 years after the end of Fanny.
There were several subsequent filmed adaptations, including the 1961 Hollywood classic by Joshua Logan, starring Leslie Caron, Charles Boyer and Maurice Chevalier. Auteuil's adaptations, shot simultaneously, are faithful to the original humorous and dramatic text. Shooting for César should begin soon.
The first installment, Marius, sets the stage in the colorful 1930's Old Port of Marseille. Marius works at his father César's bar, but longs to see the world aboard one of the merchant ships that come through port. As much as he loves the idea of adventure, he also pines for the fishmonger's beautiful daughter Fanny, without knowing that she harbors secret feelings of love for him too. When Panisse, an aging, heirless, no-nonsense widower declares his intention to wed Fanny, she and Marius are forced to make decisions... We will let you dicover what happens in Fanny, the second installment...
Sunday, October 19 - 1pm - DOUBLE FEATURE PRESENTATION
ONE SCREENING ONLY!