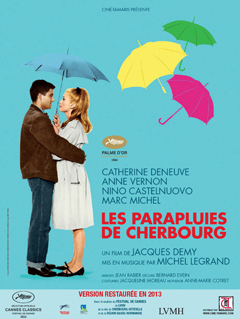 In French with English subtitles.
Bande Annonce -
(movie trailer)
AWARDS
-Palme d'Or, International Cannes Film Festival, 1964
-OCIC Award, International Cannes Film Festival, 1964
-Prix Louis Delluc, 1963
-Critics Award, French Syndicate of Cinema Critics, 1965
REVIEWS

It continues to charm and delight for the same reasons it did back in 1964. - Kenneth Turan LOS ANGELES TIMES
"HELLO, GORGEOUS! A Beam of Movie Heaven!" - Peter Travers ROLLING STONE
A glorious romantic confection unlike any other in movie history. - Andrew Sarris NEW YORK OBSERVER
A surprisingly effective film, touching and knowing and, like Deneuve, ageless. - Roger Ebert CHICAGO SUN-TIMES
The Umbrellas of Cherbourg is inspired as much by René Clair's innovative French classic of 1930, Sous les toits de Paris, and the prewar Pagnol Marseilles trilogy (Marius/Fanny/César) as by Hollywood. - Philip French OBSERVER (UK)
An operatic masterpiece of romanticism. - Desson Thomson WASHINGTON POST
Everything in Umbrellas is incredibly bright and colourful...Yet, behind this surface, a rather more cynical worldview is apparent. - Keith H. Brown EDINBURGH U FILM SOCIETY
The Umbrellas of Cherbourg has stood the test of time as beautifully as Deneuve and seems likely to enchant future generations as fully as it has audiences over the past four decades. - Kevin Thomas LOS ANGELES TIMES
Director:
Jacques Demy

Music:
Michel Legrand

Screenplay:
Jacques Demy

90 min

US Distribution: Janus Films

ROMANCE - DRAMA - MUSICAL

Not Rated (Adult situations)

Cast:
Geneviève:
Catherine Deneuve
Guy:
Nino Castelnuevo
Madame Emery:
Anne Vernon
Roland Cassard:
Marc Michel
Madeleine:
Ellen Farner





The SFFF is delighted to celebrate the 50th anniversary of Jacques Demy & Michel Legrand's musical masterpiece, The Umbrellas of Cherbourg, in a glorious new restoration.
If you have never seen The Umbrellas of Cherbourg, be prepared! This timeless musical love story, a monument to ruined happiness and devastated hopes, is so captivating that it will stay with you long after you have left the theatre. The Umbrellas of Cherbourg has been described as one of the most beautiful, romantic, tragic, addicting, and magical movies ever made. A movie like no other.
The film stars Catherine Deneuve in the role that made her an international star and features an unforgettable score by Academy Award winning composer Michel Legrand (The Young Girls from Rochefort - SFFF 2011, Donkey Skin - SFFF 2014, The Thomas Crown Affair, Summer of 42). The Umbrellas of Cherbourg won the Palme d'Or at the 1964 Cannes Film Festival and was nominated for five Academy Awards.
Geneviève (Catherine Deneuve), 17, lives with her widowed mother, who owns an umbrella shop in Cherbourg. She and Guy, an auto mechanic, are in love and want to marry. But Geneviève's mother does not approve: she thinks Geneviève is too young and Guy is too poor. One day, Guy announces that he must leave for two years, to do his military service in Algeria where the independence war has just started. Before he leaves, Guy and Genevieve spend one blissful night together…
Sunday, October 19 - 6pm
ONE SCREENING ONLY!