NEW RELEASE
ON VIRTUAL CINEMA


In regular times, we would have presented Sibyl last June at the Crest Theatre, and maybe Justine Triet would have traveled to be with us in Sacramento... These are not regular times but we are glad to present Sibyl for you to watch from the comfort of your home, and to invite you to a transatlantic Zoom Q&A with its director, one of French cinema's most original new filmmakers: Justine Triet on Sunday, September 20, 2020 @noon (see below to RSVP). The Sacramento French Film Festival presented Justine Triet's first feature Age of Panic at the SFFF in 2014.
Bon Spectacle !
WATCH THE FILM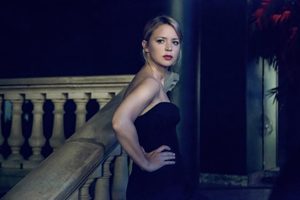 Virginie Effira in Sibyl by Justine Triet
Watch SIBYL on VIRTUAL CINEMA with the SFFF.
Starring Virginie Efira as Sibyl, a psychotherapist who steals her patient's story for a novel, with explosive consequences.
Your rental ($12) supports the Sacramento French Film Festival.
WATCH THE FILM HERE.
If you wish to cast the film to your TV or if you require any other kind of assitance please visit https://watch.eventive.org/help for Eventive's FAQ and live chat support.
SYNOPSIS & TRAILER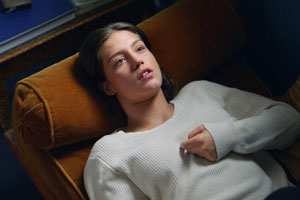 Adèle Exarchopoulos in Sibyl by Justine Triet
Sibyl (the versatile Virginie Efira, Sink or Swim - MiniFest 2019 & An Impossible Love - SFFF 2019) a jaded psychotherapist, wants to return to her first passion: writing. She finds her inspiration in her newest patient Margot (Adèle Exarchopoulos, Blue is the Warmest Color), a troubled up-and-coming actress who just landed a breakthrough role and is pregnant with her co-star (Gaspard Ulliel), himself in a relationship with the director of the film (Sandra Hüller, Tony Erdmann)... Breaking all the rules, Sibyl secretly starts recording their sessions and soon becomes much too involved in Margot's tumultuous life, reviving volatile memories that bring her face to face with her own troubled past. When Margot implores Sibyl to join her in Stromboli for the end of the shoot, everything accelerates at a dizzying pace... TRAILER
Not Rated (Adult situations, langage, sexual situations).
"Sly, sexy French comic thriller" - Los Angeles Times.
ZOOM Q&A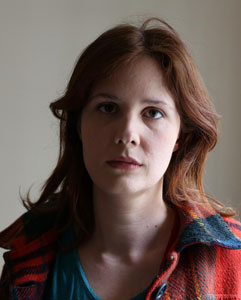 Justine Triet
The Zoom discussion with
JUSTINE TRIET, Director of SYBIL
& SIONANN O'NEILL, English Subtitler for the film,
will take place on
SUNDAY, SEPTEMBER 20 @ noon (9pm in France).
Please RSVP to kelstob@csus.edu, to receive the Zoom invitation.
VIRTUAL CINEMA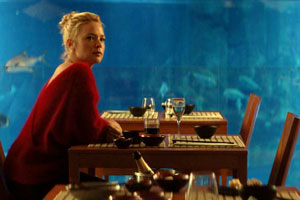 Virginie Effira in Sibyl by Justine Triet

FIND OUR VIRTUAL CINEMA OFFERINGS HERE.
We currently offer 5 new releases, 5 classics
& 1 program of short films.