LET'S GET TOGETHER!
Tomorrow, Friday, October 1st @ 7:30pm
at the TOWER THEATRE
TITANE by JULIA DUCOURNAU
Palme d'Or of the 74th Festival de Cannes
+ ZOOM DISCUSSION
on Friday, October 8th @ 6:30pm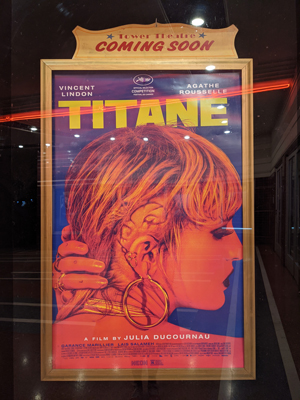 The Tower Theatre is giving us the opportunity to get together in person with the release of the much talked about TITANE by Julia Ducournau!
The SFFF team will be at the Tower Theatre tomorrow, Friday, October 1st to discover Titane with you @ 7:30pm.
+ we will meet the following week, Friday, October 8th @ 6:30 pm on Zoom for an exciting discussion about this provocative & controversial film that was the surprise winner of the top prize, la Palme d'Or, at this year's Festival de Cannes. Find the Zoom link below!
• If you cannot make it tomorrow, Titane will play all week at the Tower Theatre (2508 Land Park Dr, Sacramento, CA 95818).
Showtimes are:
- Friday, Oct 1st: 1:50pm; 4:40pm; 7:30pm; 9:50pm
- Saturday, Oct 2nd: 11:20am; 1:50pm; 4:40pm; 7:30pm; 9:50pm
- Sunday, Oct 3rd: 11:20am; 1:50pm; 4:40pm; 7:30pm
- Monday, Oct 4th-Thursday, Oct 7th: 4:40pm; 7:30pm.
• Faraway friends, please check your local listings to find out if the film is playing at a theater near you!
Regardless on when or where you watch the film,
let's meet on ZOOM for a discussion around TITANE,
led by le Professeur Kevin Elstob,
on Friday, October 8th @ 6:30pm.
Click on the link to join the Discussion: https://csus.zoom.us/j/82751268393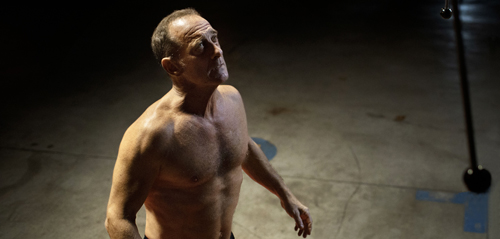 Vincent Lindon in Titane ©Carole Bethuel
Julia Ducourneau is the second woman director to ever receive the coveted Palme d'Or (in 1993, Jane Campion, The Piano Lesson, shared the top prize with Chen Kaige, Farewell My Concubine). We presented Ducournau's short film Junior at the 11th SFFF in 2012. Her first feature film, the cannibal horror-coming of age comedy Raw came out in 2016.
In Titane, a father (Vincent Lindon) is reunited with his son, who disappeared ten years ago. Simultaneously, a series of gruesome murders places the region under pressure. Alexia (Agathe Rousselle), a model in a car showroom, has all the characteristics of the ideal victim…
In a highly positive review, the BBC called Titane "the most shocking film of 2021," and the film just won the "People's Choice Award for Midnight Madness" at the 2021 Toronto International Film Festival. A body horror thriller, Titane is Rated R for strong violence and disturbing material, graphic nudity, sexual content, and language.
If you dare to take the voyage, it is worth the trip. Buckle up!
Stay safe. See you on October 1st!
The SFFF Team.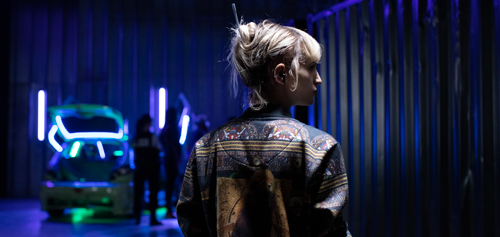 Agathe Rousselle in Titane ©Carole Bethuel
2021 VIRTUAL STORE
VISIT OUR SQUARE STORE TO ORDER OUR 2021 POSTER!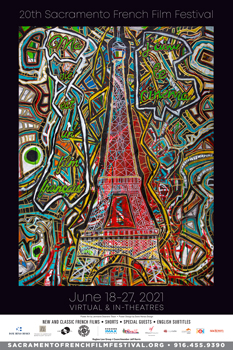 Artwork by Jermaine Deandre Tilson / Design by Dane Henas Design